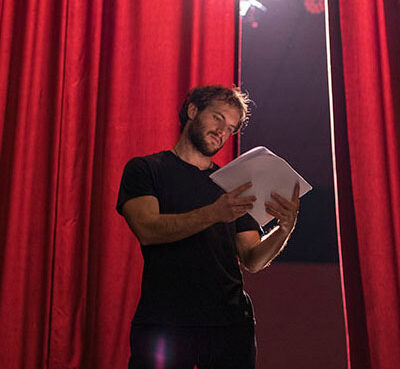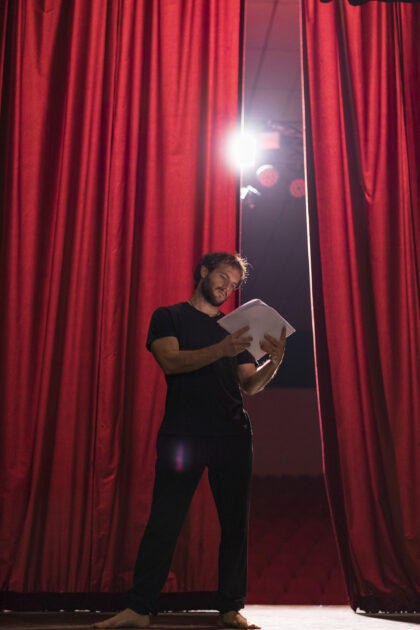 The mile-long stretch of live-performance venues that line Santa Monica Boulevard from McCadden Place to El Centro Avenue, has held a vital place in L.A.'s arts scene for decades. It received its official designation as "Theatre Row" in 2015 thanks to the efforts of Los Angeles City Councilman Mitch O'Farrell and even helped launch the careers of marquee names like George Clooney, Octavia Spencer, Sarah Michelle Gellar, Molly Shannon, and Chris Pine.
But to reduce Theatre Row to merely a collection of like-minded businesses would be to sorely undervalue the sense of community and camaraderie that exists between them. A September 2020 Los Angeleno article notes, "Unlike stores that compete for business, Hollywood's theater venues function more like an ecosystem, a forest of trees bound by conjoint roots. All the venue owners are friends. They work with each other."
A stroll through the Media District on a pre-pandemic weekend night would have put you squarely in the center of a crowd of theatergoers congregated on the sidewalk. In 2019, Theatre Row offered Angelenos 400 shows on more than 20 stages. Productions were lined up months in advance for audiences eager to fill their seats.
According to the U.S. Bureau of Economic Analysis, in 2019, the nation's arts and culture sector was a $919.7 billion industry that supported 5.2 million jobs and represented 4.3% of the nation's economy and the future looked rosy.
However, just a few months later, all that would change. Almost as soon as the coronavirus appeared as a threat to public health and safety, live performance venues were among the first to shutter. No productions, of course, meant no revenue, and businesses that had been around for decades quickly had to grapple with the thought they might not survive.
In fact, it didn't take long for Theatre Row to suffer its first casualty. "Today, the Lounge Theatre has officially closed its doors," reads a post from May 15, 2020, on the company's Facebook page.
"We had to furlough everyone. We all went on unemployment," recalls Zeke Rettman, managing director of the Hudson Theatres (6539 Santa Monica Blvd.) located just a few blocks away from the Lounge Theatre.
They were not alone. Between February and April 2020, the U.S. Bureau of Labor Statistics reported that jobs in the arts sector plummeted from 2.5 million to 1.2 million, a decline of nearly 53%. Indeed, the outlook seemed grim. A March 2022 Americans for the Arts report claimed that by July 2021, financial losses to the nation's arts and culture organizations reached an estimated $17.97 billion. Ninety-nine percent of producing and presenting organizations nationwide had canceled events that represented a loss of 557 million ticketed admissions.
Rettman added, "It felt like we held our breath for about a year and a half."
The biggest issue for many of these theaters was, of course, the operating costs—rent, utilities, payroll—but, there were lifelines for those able to hold on.
"We worked with our landlord on a plan to address the rent," said Rettman. "Which basically came down to him waiting for us to get the grants in order to pay it. He was patient, the grants came, and it worked out."
Padraic Duffy, managing director of Sacred Fools, the resident company at The Broadwater Theater complex (1076 Lilian Way), agreed that government grants—from the Los Angeles City Council all the way up to some federal programs—helped stave off disaster.
"Then, once we could open, but before we felt comfortable programming ourselves, we offered our space for film and rehearsal rentals. We also did some online virtual programming and events," said Duffy.
That same Americans for the Arts report noted that 77% of arts organizations delivered virtual content/programming during the pandemic and, of those, 29% plan to improve their online content moving forward, while 18% expect to maintain their level of programming.
The Blank 2nd Stage Theatre (6500 Santa Monica Blvd.)—which runs the annual Young Playwrights Festival—is one of those companies. It launched a subscriber-supported streaming service during the pandemic cleverly called The Blank's 3rd Stage. For the Spring 2022 season, The Blank offers its patrons a "Living Room Series" of new plays in development, shown in a digital format. According to its website, the next online reading will take place on May 23 for More of a Heart by writer Dave Osmundsen.
"Certainly, we took a major financial hit, but we have been able to continue to improve and make upgrades to our venue," said Rettman. "We lost some in-house theatre companies and clients to the pandemic, so that's an ongoing challenge to replace that level of consistency."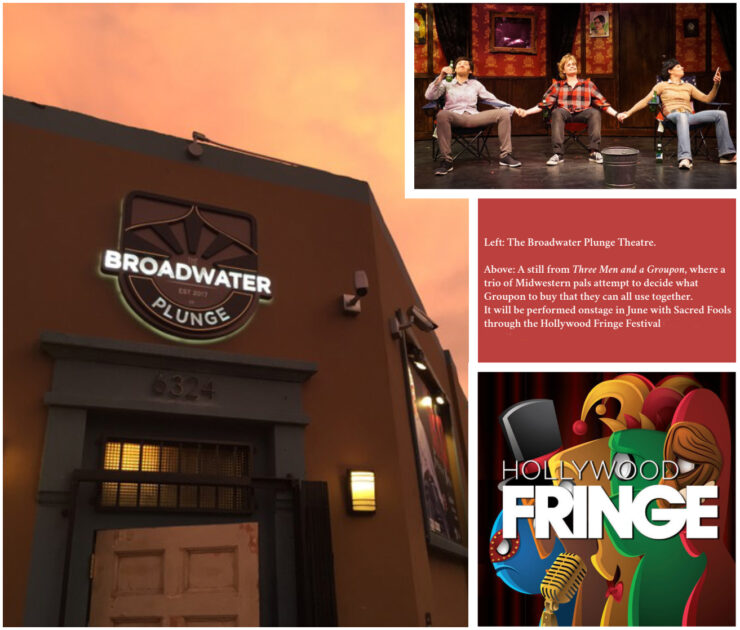 "For Theatre Row as a whole, I'm concerned," he continued. "It seems that the Broadwater is doing well and looking strong, so that's good. I haven't seen enough from the other venues to gauge how they're doing."
Duffy shares this sentiment. "I'm concerned about when audiences will return, and whether we will get adequate stage support. I also worry about further closures along the Row."
According to AMS Audience Outlook Monitor, 69% of arts attendees are already attending or ready to attend in-person programs as of February 2022—up from 38% in September 2021 (17% in April 2021). Nearly a quarter plan to wait for infection rates to drop further before attending, down from 39% just a month prior.
That should be good news, especially with the Hollywood Fringe Festival scheduled to return this June to many of the Theatre Row venues. The annual, community-driven event celebrates freedom of expression with 18 days of original programming and has generated $3.5 million dollars since it began in 2010. Sacred Fools plans to participate with its production of Three Guys, One Groupon.
"We're in good shape. The future for the Hudson Theatre is bright," said Rettman. His organization currently has A Death-Defying Escape running through May 15, and Afterglow on its MainStage beginning May 5. "I'm certainly hopeful. I hope to see more, but I think Theatre Row is going to be fine."