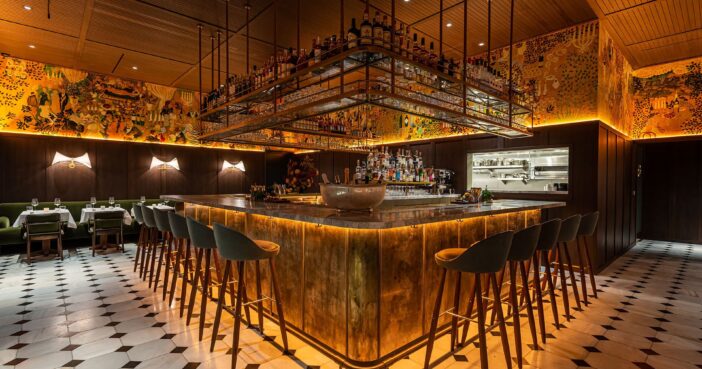 The opening of Gigi's Hollywood within the growing Sycamore Ave corridor of the Hollywood Media District has delivered some essential New York City charm to Hollywood's focal point of production.   The 60-seat dining room, which officially opened on November 13th of last year, has made for an elegant and timeless addition to the neighborhood – made possible by New York City restaurateur, Alexander Wilmot, and Hollywood actress, Samantha Ressler.
With reclaimed marble flooring, wood paneling, and painted walls adorned with nostalgic, colorful illustrations from artist, Andie Dinkin, the restaurant's dining room has that feeling reminiscent of a hidden, Parisian bistro.  Ageless and treasured, as if it's been around since Hollywood's original heyday, the interior was designed by Andrew Cosbie who has warmed the restaurants dining room with mohair booths and vintage Italian light fixtures.
Gigi's bar director, Courtney Rose, who has previously worked with neighboring restaurants like Petit Trois and Jon & Vinny's, has concocted a signature Old Fashioned ready for the re-opening – complete with cognac, combier royal, chocolate chili bitters, and orange oil.  The bar, serving as the main attraction on the restaurant floor, will be an exquisite gathering point for patrons once it is safe to socialize closely again.
The French inspired menu was developed by executive chef Matt Bollinger, who has also worked at Jean-Gorges and Trois Familia.  The menu highlights several French culinary delights like fresh scallops with pink peppercorn granita to other French staples like the classic steak frites.
Gigi's Hollywood was designed by the beloved Los Angeles restaurant architect, Osvaldo Maiozzi, who has also left his mark on LA with several other restaurants like Otium, Bestia, Redbird, and Angelini Osteria.  Maiozzi sadly passed in May of last year – making the spectacular visual of Gigi's Hollywood his final work.