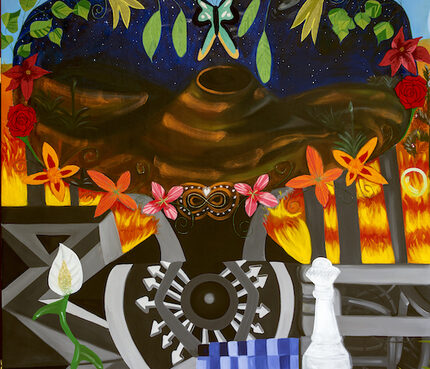 Frieda Toranzo Jaeger, Times Come to an End (detail), 2021, oil on canvas with embroidery. Image: LAR Arts and Reena Spaulings.
The Gallery Association Los Angeles (GALA), which formed last year to respond to the Covid-19 crisis with online arts programming, has announced its first Gallery Weekend Los Angeles. The live event, scheduled to run from July 28 to August 1, will feature more than seventy local galleries and art spaces, some of which will extend their regular opening hours late into the night. Programming will include exhibitions, talks, and performances, and will take place at diverse locations across the city, which visitors can learn about through Gallery Map LA, a new online and print resource.
As predicted earlier this year, Gallery Weekend LA will largely correspond with the third edition of the Felix art fair, to be held July 29–August 1 in its usual venue of the Roosevelt Hotel downtown, with twenty-nine galleries exhibiting in outdoor cabanas or in ground-floor rooms opening onto the hotel pool, as a concession to Covid-19.