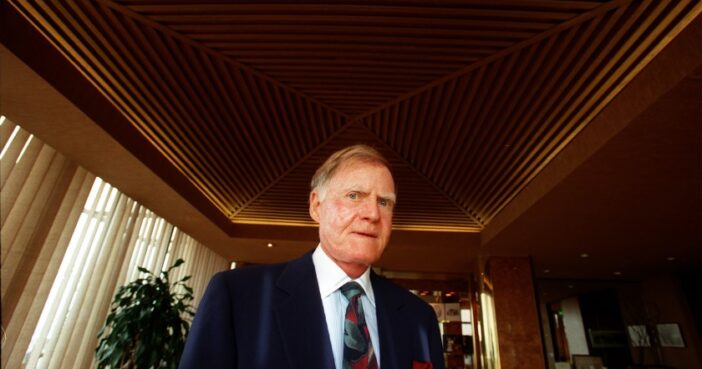 As the world looks toward 2021 to bring a new beginning, the Hollywood Media District BID is marking the moment by commemorating an important community stakeholder whom we lost over the past year – and whose project within the BID, known as Hollywood 959, can serve as a guide to the District's past, present, and future.
Jerry Snyder, the legendary Southern California real estate developer, passed away in May of 2020 at the age of 90. His eponymous firm J.H. Snyder Co. is a prolific builder, known for marquee projects that include the Water Garden II in Santa Monica, the Wilshire Courtyard in the Miracle Mile neighborhood, and of course Hollywood 959 within the Hollywood Media District.
Snyder showed great foresight in developing Hollywood 959. The project was completed in 2015 – making it one of the earliest contemporary office projects built here. At that time, the streaming business was a relatively nascent concept, and the District was characterized more by back-of-house studio space than by business offices.
The craft of content production was in the midst of rapid change, however. The digitization of production meant that studios needed more programmers than prop houses. Developers followed in Snyder's stead in the years that followed, building top-line office product across the District. By the dawn of 2020, the outlook for office in the District looked unassailable.
Of course, the past year has presented challenges that could hardly have been anticipated. Due to the pandemic, office buildings around the world are mostly closed. Countless businesses have been disrupted, including Quibi, which was a large tenant at Hollywood 959 until shutting down in October.
But the means through which Hollywood 959 has weathered these challenges do bode well for the future of the District. The property sold last month to LPC West and Geyser Holdings, buyers who profess a confidence in the future of the type of office product that the Hollywood Media District offers. They've stated a belief that tenants will desire relatively low-rise, creative office with abundant outdoor space in the years after the pandemic. Moreover, demand for streaming content has never been higher, and offices in the Hollywood Media District are very well suited to produce more of it.
It is perhaps for these reasons, then, that projects surrounding Hollywood 959 continue to press forward. The Harlow building at Sunset Las Palmas was completed by Hudson Pacific Properties last year, and the 1000 N Seward St. office project by the Cooper family and Plus Development is proceeding on schedule. Jerry Snyder, who famously brought enthusiasm to his work and was restless when faced with a lull in activity, would likely appreciate the resilient spirit of this neighborhood and the determination to build for tomorrow.