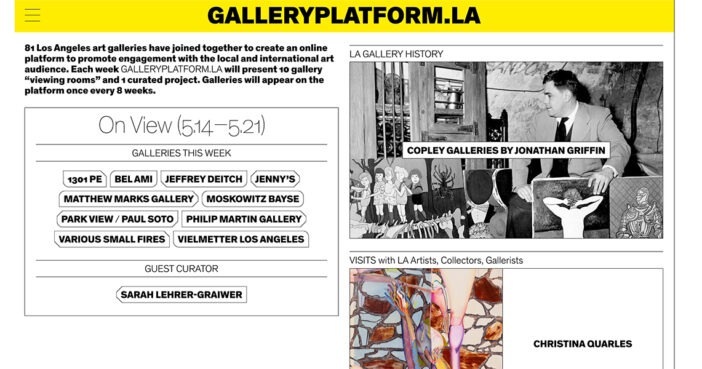 The newly-formed Gallery Association Los Angeles (GALA) launches galleryplatform.la with ten viewing rooms in addition to a curatorial-led project, and four editorial features. This programming is the first of what will become weekly rotating content.
The inaugural viewing rooms include presentations by: 1301PE, Bel Ami, Jeffrey Deitch, Jenny's, Matthew Marks Gallery, Moskowitz Bayse, Park View / Paul Soto, Phillip Martin Gallery, Vielmetter Los Angeles, and Various Small Fires. Curator Sarah Lehrer-Graiwer's 6-part project explores the theme of biomorphic, cellular, and viral forms in the work of over forty artists.
Featured in the editorial section are video visits with artist Christina Quarles, gallerists Young Chung and Kibum Kim of Commonwealth and Council, and collector Demetrio Kerrison, alongside new writing by Jonathan Griffin on William N. Copley and the Copley Galleries.