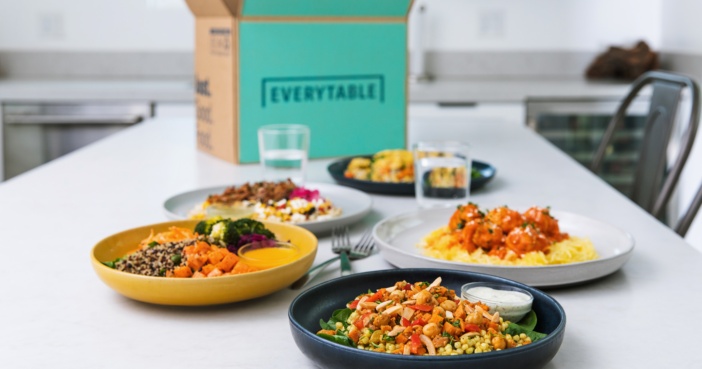 LA based Everytable has recently opened a new storefront within the Hollywood Media District at 6775 Hollywood Blvd.  The Everytable mission is rooted in making healthy, fresh, made-from-scratch food accessible to everyone at affordable prices. Their local chefs take fresh and nutritious ingredients and turn them into quick and accessible meals available at "grab and go" storefronts across various locations in Los Angeles – most notably including areas with little to no access to nutritious food.  These meals are then priced accordingly depending on the neighborhoods they serve.
The Everytable concept was originally started by Sam Polk, a former hedge fund trader, after he founded a non-profit called Feast, which provides various healthy minded services like nutrition education and cooking classes to families in South LA – where, according to the Everytable website, "the average income is $13,000 a year, life expectancy is 10 years lower than more affluent areas, and diseases like obesity and diabetes are alarmingly high."
Polk saw the importance of making nutritious food accessible in "food desserts" like south LA at prices similar to their fast food competition; and now that the Everytable model has proved to be a successful one, he a starting a new endeavor to further fight racial inequity with a social equity franchise program unique to this Hollywood location.  This program aims to give entrepreneurs and business owners of color the opportunity to become Everytable franchisees.
According to Anne Field with Forbes Magazine, "Entrepreneurs will go through a six-month training program, receive a $40,000 a year salary for the first three years and receive low-interest loans to be paid back over five years, with payments starting only when the restaurant becomes profitable. The first franchisee plans to open her restaurant by the end of the year."
Polk plans to lease 25 to 30 stores next year to social equity franchises in Southern California.  He also has plans to expand to New York City.   Stay tuned for more information on this exciting new addition to the Media District.  And in the interim, to read more about Everytable's new Social Equity Franchise Program, please visit Forbes.