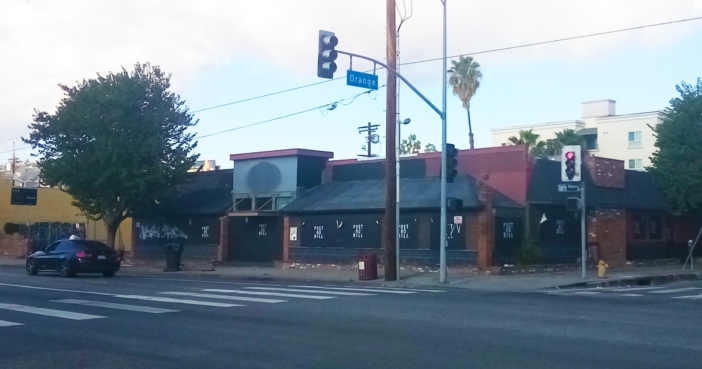 Last week, while on patrol, two Media District Public Safety team members—Sgt. Tommy Gardner and PSO Melvin Bernard—helped prevent a potentially devastating fire from breaking out in the 7000 block of Santa Monica Blvd.
At approximately 6 p.m. on December 2, the officers smelled smoke at the intersection of Sycamore Ave. and Santa Monica Blvd. and, upon further investigation, found it emanating from a boarded-up window of the old Shakey's Pizza building. The officers immediately called 911 and requested the Los Angeles Fire Department (LAFD).
While on the phone with the operator, they spotted a male subject inside the building. They instructed him to come outside and asked him about the fire. The individual cooperated and told the BID officers that he started the fire to keep warm, but put the fire out which is what caused the smoke.
A few minutes later, the LAFD arrived and began to conduct its investigation. A second 911 call by BID officers saw the Los Angeles Police Department (LAPD) dispatched to the scene. LAPD officers took the suspect into custody and charged him with Breaking & Entering (PC 459). LAPD advised they are pending an arson investigation.
LAFD secured the building by boarding up the windows.