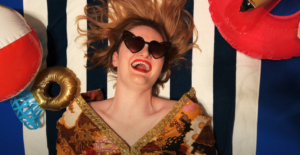 A double dose of the Bard comes to the 
Broadwater
(1078 Lillian Way) thanks to Foolish Productions' stagings of Shakespeare's 
Twelfth Night
 and 
Measure for Measure
in repertory. Both plays have been adapted from their respective original comedies by director Mikey Mulhearn.
Measure for Measure—an in-person remounting of their 2020 virtual performance—introduces us to the Duke of Vienna who seeks help managing a city overrun with prostitution and immorality. When he enlists Lord Angelo, the man who fervently reinstates a rarely enforced code of chastity, a pious nun will plead with him for her condemned brother's life.
In Twelfth Night, twins Sebastian and Viola become washed ashore in a strange land following a shipwreck. What follows—a case of mistaken identity, unrequited love, and (somehow) pool inflatables—will lead two strangers to unleash love's chaotic and transformative power upon the inhabitants of Illyria.
The schedule of performances is as follows:
Sunday, March 19th, 7:30 pm Press Night: Twelfth Night
Sunday, March 19th, 9:00 pm Press Night: Measure For Measure
Sunday, March 26th, 7:30 pm: Twelfth Night
Sunday, March 26th, 9:00 pm: Measure For Measure
Monday, March 27th, 8:00 pm: Measure For Measure
Sunday, April 2nd, 7:30 pm: Twelfth Night
Sunday, April 2nd, 9:00 pm: Measure For Measure
Monday, April 3rd, 8:00 pm: Twelfth Night