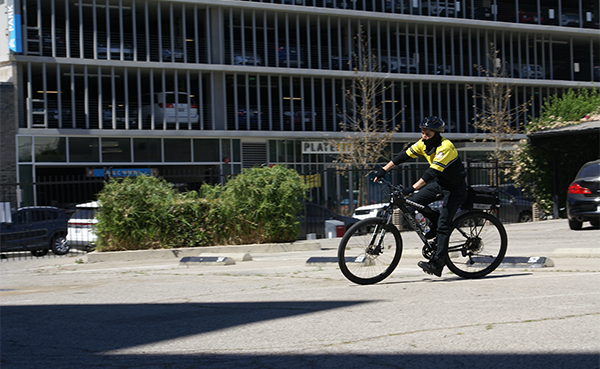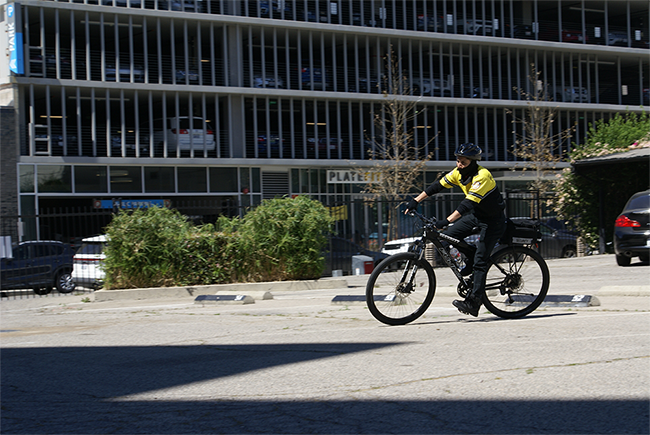 The sun has just started to warm the morning air over Hollywood when Ivan Rangel and Ian Duenas Garcia arrive for their internship with the Media District's Public Safety team. After a quick equipment check, they set off on their bikes and spend the day patrolling the neighborhood, interacting with BID business owners, and engaging with community members.
Since May 2021, the Media District has partnered with the Los Angeles LGBT Center to train selected young men and women interested in a career in public safety and security. Anyone who meets certain criteria—are 18 years of age or older, possesses a BSIS Guard Card, and  Bike Certification, for instance—is encouraged to apply.
Throughout the month-long program, interns receive 120 hours of hands-on experience where they learn what it's like to work in a fast-paced, team-oriented environment like the Media District BID.
"I love what we are doing with community outreach, especially with the unhoused population," said Garcia. "You can tell the team is really trying to make a difference."
For Rangel, it's the teamwork that really stands out. "When we're out patrolling as a group, people come up and talk to us because they feel like they can rely on us."
Both say the internship has confirmed their commitment to pursue a career in public safety and security.
"Doing this teaches you a lot of life skills," said Garcia. "Like ethics and how to carry yourself with composure. Being out there and interacting with people is really gratifying."
Ayana Sepulveda, one of the BID's Public Safety team captains who oversees the program, noted that previous graduates have found full-time employment. In fact, the internship has been such a success that they plan to expand it to 300 hours of training when it picks up again this summer.
Sepulveda notes it's not just the interns who benefit from the training. "By engaging with our interns, our officers learn to effectively communicate with members of the LGBTQ+ community who bring a different set of views and experiences with them. This relationship helps both the District and the community as a whole."