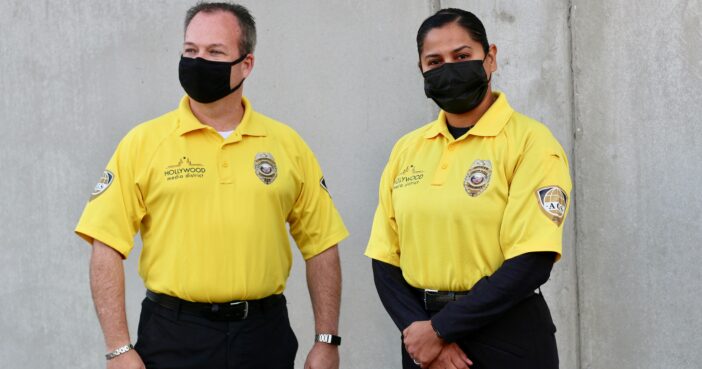 The Hollywood Media District Welcomes New Security Captains Ayana Sepulveda and Bill Stankiewicz to the Team.
Enter the BID's boundaries by foot, and you will instantly be reminded of all the special components that make up this pocket of Los Angeles. Heading west along Santa Monica Blvd, you will walk past all the black box theaters and galleries which somehow possess a certain small-town charm despite their proximity to the tourist-driven hub just a few blocks north. Take a left down Highland Ave and you will walk past a steady flow of pet owners picking up their dogs from the various daycares and pet hotels. On N Las Palmas Ave, a security guard wearing a cowboy hat will likely deliver you a big, resonating "hello" as he keeps a watchful eye on the star trailers parked out front of a live T.V. production. On Romaine St, you might witness a man cross the street to help another man secure his tent poles, or a woman in a long coat take a selfie during her smoke break. And on N Sycamore Ave, you have never seen concrete this smooth – an undeniable sign of a city's development and growth.
This is just a quick glimpse into the unique and artistically diverse Hollywood Media District in which new security Captains, Ayana Sepulveda and Bill Stankiewicz patrol daily.
"Our job when you boil everything down is to try and make life better for the district," says Stankiewicz. "All of the people are connected. Business owners, residents, tourists, and even the homeless. When life improves for one, life improves for all."
This sentiment is exactly what you want to hear from someone in charge of making you feel safe and this collective desire to enhance the community is vital for progress.
Sepulveda continues, "I'm motivated by the fact that, when I leave work at the end of the shift, I know I've helped make a difference in my community. Helping the community I serve and watching the district improve makes me look forward to work. Hollywood is a beautiful city and I'm happy I can do my part to make it a safer place for all."
Empathy Equals Grit
So, what does a typical day look like for the HMD's Security Captains? Beyond the obvious management duties, fieldwork, data reporting, and team training, there is a layer of skill that needs to be nurtured daily in order to effectively perform this type of job. For Stankiewicz, this quality is empathy; and for Sepulveda, it's grit.
Stankiewicz explains, "Most skills used in the day to day operation of our department can be learned. If a person does not possess empathy, it really can't be taught."
On a typical day, the security team will receive a wide range of calls requiring a diverse scope of assistance. Stankiewicz continues, "Stakeholders, homeless and residents alike all call when they are having a bad day. We need to be understanding of that and provide assistance within the scope of our ability."
Merriam-Webster defines grit as "firmness of mind or spirit: unyielding courage in the face of hardship or danger." Sepulveda further explains, "The characteristic of grit; courage, conscientiousness, perseverance, resilience, and passion are critical to the safety of our officers and community. When working in the field and interacting with the public, grit is a skill that helps the team works closely and effectively with our community."
Hollywood Bound
Born and raised in Philadelphia, Stankiewicz played semi-pro hockey in the NHL; but eventually moved to Los Angeles for a fresh start. Once landing in Hollywood, he never left; and he now has over 20 years of experience working in the neighborhood. From working in security for Capitol Records to Jimmy Kimmel Live, Stankiewicz has even managed over 150 red carpet events at the Dolby Theatre and El Capitan.
Sepulveda decided to plant her roots in Los Angeles as a result of the recession of 2008 and has never looked back. Born and raised in Orange County, Sepulveda is a recent graduate of the California State University Dominguez Hills, obtaining a Bachelors's Degree in Public Relations and Advertising.
"It was through this program that I found a way to merge my passion for community relations and public safety," says Sepulveda, and today she has over 11 years of experience behind her. From working as a Sergeant for the Los Angeles County Performing Arts Center to a public safety officer with the Downtown Business Improvement District, it is clear that her passion for community engagement is what ultimately led her to her current position as Captain.
Future Tense
As the year comes to a close, 2021 feels full of possibility. Sepulveda says, "I look forward to a healthy 2021, post-Covid-19. I'm looking forward to seeing a sense of normality within our own community, and to see the district full of arts and life."
Stankiewicz agrees, "I am looking forward to when the theaters and restaurants can re-open and we can be social and enjoy all the things the Media District has to offer."
As for words of wisdom for anyone entering this field of work, Sepulveda and Stankiewicz hold a similar stance on what it takes to find success and fulfillment.
"Keep evolving. Don't settle," says Sepulveda. "Find your various passions and cultivate them. Embrace the challenges that get you out of your comfort zone. Success isn't a one-stop destination, it's a marathon of trials and triumphs."