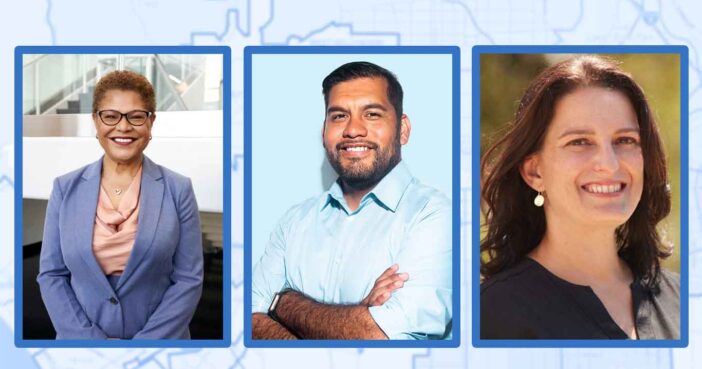 When Angelenos went to the polls in November and chose the people who would steward the city, they wanted change and they voted for it. For everyone in the Hollywood Media District, that meant three newly elected officials to represent them in City Hall—Mayor Karen Bass, and Councilmembers Katy Young Yaroslavsky and Hugo Soto-Martinez.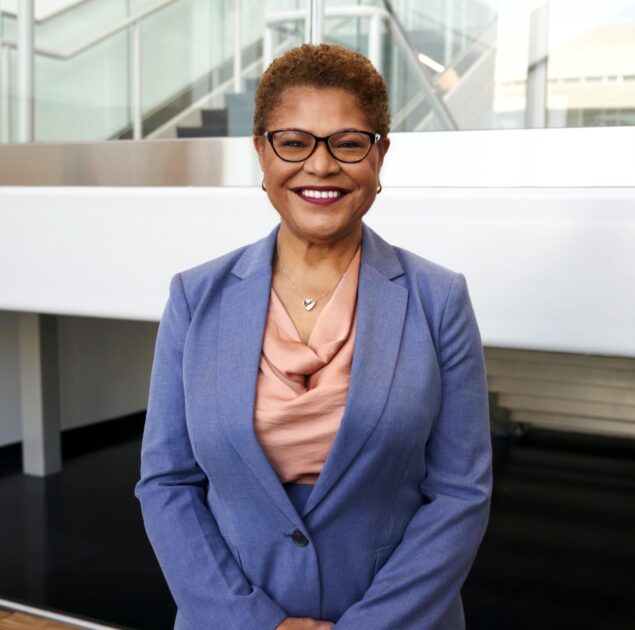 MAYOR KAREN BASS
On December 11, 2022, Karen Bass won an historic race to become the 43rd Mayor of Los Angeles. Her victory made her the first woman and second African American to hold the City's highest office. While campaigning, she promised to tackle some of L.A.'s biggest issues—like homelessness and public safety—and while this may sound like standard fodder for someone who wants to get elected, these are the kinds of goals Mayor Bass has worked toward her entire career.
Mayor Bass grew up in the Venice/Fairfax neighborhood and started her career as a front-line healthcare provider.
In 1990, she founded the Community Coalition, a non-profit organization that sought to address some of the public health crises—like substance abuse, poverty, and crime—facing underserved populations including the predominantly Black and Latino residents of South L.A.
In 2004, she served in the California State Assembly, eventually becoming its Speaker. This made her the first Black woman to lead a state's legislative body in United States history. During her tenure, she managed to work with the opposition party to stave off the state's budget crisis brought on by the Great Recession. For that, she received the John F. Kennedy Profile in Courage Award.
In 2010, she was elected to represent California's 33rd congressional district (later the 37th) where she chaired the United States House Foreign Affairs Subcommittee on Africa, Global Health, Global Human Rights, and International Organizations and the United States House Judiciary Subcommittee on Crime, Terrorism, and Homeland Security. While in Congress, she fought to protect small businesses during the pandemic and shepherded the passage of legislation that the Los Angeles Times called "the most significant child welfare policy reform in decades."
When she announced her candidacy for mayor, Bass said that she would focus on addressing the causes of Los Angeles's significant unhoused population and to end encampments around elementary schools and public parks. In keeping with her promise, her first act on the job was to declare a state of emergency on the matter.
Mayor Karen Bass, mayor.helpdesk@lacity.org
HUGO SOTO-MARTINEZ
LA City Council District 13
A lifelong Angeleno, Hugo Soto-Martinez grew up in South Los Angeles to two Mexican immigrant parents who worked as street vendors. When the Councilman turned 14, a disabling back injury sidelined his father and led Soto-Martinez to drop out of high school and work at a hotel to support his family.
While working at the hotel, Soto-Martinez returned to high school and later started studying political science and criminology at the University of California, Irvine. During his last year of college, at the prompting of a co-worker, the Councilman joined a trade union organized by some co-workers to win fair wages and free family healthcare.
This success led Councilman Soto-Martinez to become an organizer for UNITE HERE Local 11 and, later, with the Los Angeles chapter of the Democratic Socialists of America.
Soto-Martinez has also cited tackling the homelessness crisis as a top priority. He believes Measure HHH, which provided funding for permanent supportive housing, has helped, but the city needs to do more. He supports the United to House LA initiative, which calls for the protection of existing affordable housing, the creation of new affordable housing, and increased protections for renters.
Hugo Soto-Martinez, councilmember.soto-martinez@lacity.org.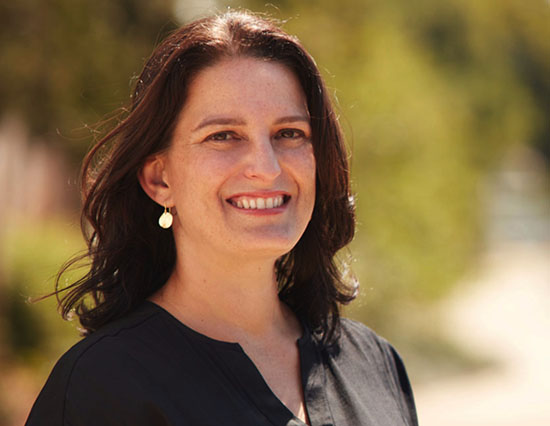 KATY YOUNG YAROSLAVSKY
LA City Council District 5
Climate attorney Katy Young Yaroslavsky was born in Council District 5 and has spent most of her life navigating the political machinations of Los Angeles in an effort to help make the city a beautiful, safe environment in which to live.
"Before I could've articulated it, I intuitively understood that our natural world was worth fighting for — and in need of champions," said Yaroslavsky. "Over the ensuing years, my conception of 'the environment' has expanded and shifted to focus primarily on people and communities, but my commitment to our planet remains steadfast."
Indeed, her previous work in public service has been both extensive and impressive. After obtaining degrees from UC Berkeley, and UCLA Law School, Yaroslavsky worked to make L.A. neighborhoods more pedestrian-friendly, vibrant, and equitable while preserving what made them special in the first place — through inclusive and thorough community engagement.
In 2011, Yaroslavsky became the General Counsel and Director of Government Affairs at the Climate Action Reserve, an LA-based climate change nonprofit that works with the state's Air Resources Board, environmental organizations, businesses, and governmental agencies to reduce greenhouse gas emissions. Four years later, newly-elected Los Angeles County Supervisor Sheila Kuehl recruited her to serve as her Senior Policy Advisor covering the environment and the arts.
Prior to the November election in which she won the council seat for City District 5, she worked with the leadership of LA County's cultural institutions—like the LA Philharmonic, LACMA, and the Natural History Museum—to make sure they remain accessible to, and reflective of, the many communities and cultures of LA.
Katy Young Yaroslavsky, (323) 866-1828