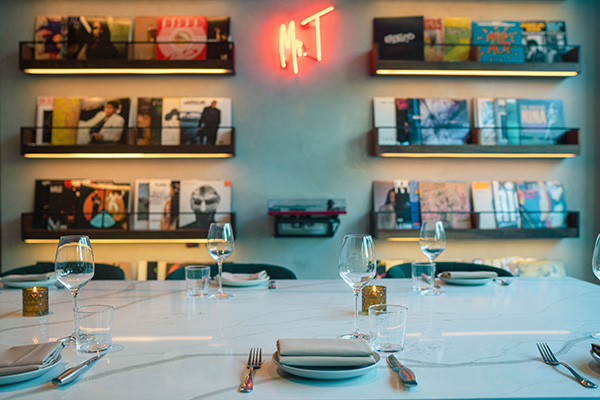 In terms of its French pedigree, Mr. T is the real deal. Its first location is a buzzy affair set squarely in Paris's chic Marais district. Similarly, at its newly opened Hollywood counterpart, dinner promises to become something of a low-key spectacle.
As you enter, the dining room's casual minimalism is set aglow thanks to a neon "Mr. T" on the wall. A long bar sits beside an open kitchen and an army of exceptionally attractive staff scurry between tables while thumping music resonates overhead. For guests who wish to dine al fresco, there's a spacious outdoor patio to accommodate that.
Those who want to kick things off with a drink will not be disappointed selecting from their many innovative cocktails. The eponymous Mr. T, for instance, is a refreshingly smoky mezcal margarita with prickly pear and candied hibiscus. The real star of the show, however, is the restaurant's extensive wine list with some especially exquisite choices offered by the glass including a Champagne Krug Grand Cuvée M and a Chateau d'Yquem sauternes.
The Mr. T menu takes inspiration from street food through a lens of French cuisine as prepared by head Chef Alisa Vannah (formerly of Tsubaki and République.) That is to say, it features approachable dishes elevated by traditional technique and served with a soupçon of drama. About a quarter of the items are from the Parisian outpost and include the Mr. T lamb kebab, a riff on a croque monsieur with portabella mushrooms, and the must-get dish, the mac n' cheese with wild mushrooms, truffle oil, and a comete cheese that is flambéed tableside with a blowtorch.
As we said: low-key spectacle.