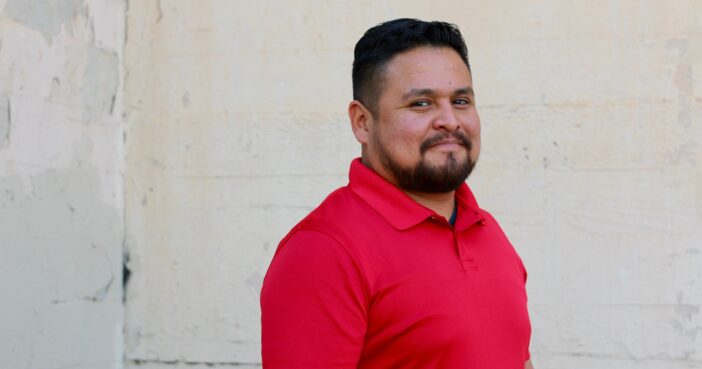 "Call me anything you want, as long as 'field' is in the name," says CleanStreet Field Supervisor, Joaquin Jimenez, who considers working on the "field" to be a form of stress relief.  Overseeing 40 people among eight districts in Los Angeles, Jimenez thrives off the hands-on work and human connection that comes with being on the frontline – a place where he feels he is able to truly be himself.
The frontline in Jimenez' position can mean a number of things.  Some days he is walking the streets of Hollywood, looking for imperfections or areas that could use a little improvement.  This could be a collection of debris, a fresh display of graffiti on a historic building, or a median that needs a little refreshing.  Regardless of the task, Jimenez' purpose is to keep a watchful eye on the innerworkings of Los Angeles – to keep the city's heart beating, so to speak.  If no one came to pick up the trash in the morning, no city could operate at its most efficient level.
—
Jimenez started working with CleanStreet when he was just 18 years old; and from the very beginning, he had an unceasing desire to learn and be a part of every last detail of what it meant to fulfill CleanStreet's mission statement.  To highlight this commitment, just two years into his job, at the age of 20, he received his commercial license and became the youngest streetsweeper operator in the company.
"I wanted to be everywhere and see it all," says Jimenez.
—
"I was born into being a natural leader because of my father," says Jimenez, whose first job was working for his father's construction business.  Admittedly shy in his youth, Jimenez had to quickly learn how to connect with a wide array of new people, serving as a liaison between clients and his father's language barrier.  This early experience of personal development ultimately aided in banishing any residual diffidence, and fundamentally gave Jimenez the foundation to become the fearless, resilient leader he is today.
—
Today, with over 12 years of experience with CleanStreet behind him, Jimenez' unique leadership style is rooted in the same lessons he learned from his father.  Jimenez bestows a sense of trust among the people he supervises, which ultimately grants them with the ability to perform their required duties with autonomy and self-governance.
"Call the shots, this is your city," Jimenez likes to tell his crew – which stimulates a heightened sense of pride in their personal work.  Even a healthy sense of competition.
Cross training is also an important element of Jimenez' leadership style. He instructs his crew in learning every skill from leaf blowing to street sweeping, and everything in between.  Jimenez explains further, "I teach everybody the same things so everyone can grow equally." When speaking about his team, he truly believes, "anyone can be a leader."
—
Jimenez appreciates the excitement of facing different obstacles in his line of work, which requires a level of ingenuity and research.
For instance, the various chemical contents of spray paint may be inconsistent; and as a result, new methods for graffiti removal are constantly in need of testing.  Jimenez recalls a time recently when he and his team made multiple attempts with various solutions to clean an area of stubborn graffiti, when ultimately, they concluded that the simple solution of hot water was the answer.
Furthermore, an understanding of the removal of vomit stains means understanding the chemistry of stomach acid.  If one doesn't bleach the sidewalk after cleaning the vomit, that acid stain is powerful enough to remain forever.
—
At BID meetings, Jimenez feels a great sense of pride when he is able to share photos and stories of the hard work accomplished by his crew. "I like when my people are acknowledged. I love being able to share their story."  He especially appreciates it when he is walking down the street and someone in the BID points out something in particular that one of his teammates accomplished.
"I love my job," says Jimenez.  "This is the position I always wanted."